Amazon/Barnes & Nobles/ Goodreads/IndieBound
Release Date: June 30, 2015
Synopsis (Provided by the Publisher, Atria Books):

Award-winning author Félix J. Palma will once again plummet you to the depths of his daring and adventurous imagination with THE MAP OF CHAOS (Atria Books; $27.00; June 30, 2015), the grand finale to the Victorian trilogy The Washington Post called "a big, genre-bending delight."

When the person he loves most dies under tragic circumstances, the mysterious protagonist of THE MAP OF CHAOS does all he can to speak to her one last time and confess the secret he didn't dare tell her while she was alive. A session with the most renowned medium of all time seems to offer the only solution, but the experience unleashes terrible forces that bring the world to the brink of disaster. Salvation can only be found in THE MAP OF CHAOS, an obscure book that he is desperate to find. In his search, he is given invaluable help by Sir Arthur Conan Doyle, Lewis Carroll, and of course by H.G. Wells, whose Invisible

Man seems to have escaped from the pages of his famous novel to sow terror among mankind. They alone can discover the means to save the world and to find the path that will reunite the lovers separated by death.

Proving once again that he is "a master of ingenious plotting" (Kirkus Reviews), Félix J. Palma brings together a cast of real and imagined literary characters in Victorian-Age London when spiritualism is at its height. THE MAP OF CHAOS is a spellbinding adventure which mixes impossible loves, nonstop action, real ghosts, and fake mediums in an explosive cocktail that is sure to captivate readers all over the world.
Caution: The below book contains intense moments of timey-wimey-ness
REVIEW:
Take every cozy, linear nineteenth century story, and smash it into a wiblbly-wobbly particle accelerator,  and you essentially have this book, fittingly titled Map of Chaos.  Map of Chaos serves as the finale of the story, and my review does not reflect a reader that has read every single volume of the series, so some things may be lacking, or the overall reflection may not be entirely accurate, as a review that reflects someone that has read every single book in this very distinguished, odd-ball trilogy of steampunk books.  Map of Chaose is both the most nebulous and head-scratching of all three novels; it is the nonlinear, allegorical rubix cube of all three books.  The first book was the only one I've read thus far, which established itself as strange speculative fiction, mostly odd-ball fusion of scifi/ Steampunk elements,laced with some homages to the adventurous late 19th c./early 20 c. works of Jules Vernes, and of course, H.G.Wells.
Speaking of H.G. Wells, the novel contains some fantastic overtures of H.G. Well's idealized,  flagrantly grandiose views of the future state of English society; they were very influenced by both Marxist ideals and even some bits of the more positive atheism espoused by lead late 19th cent. philosophers like Nietzche. The book obviously reflects a writer that is extremely well-versed in late 19th. cent./early 20th., almost pre-modernism speculative ficiton. This genre is not really very Victorian, like other genres at the time that were popular in this progressive era of English literature, mostly  because works like Alice in Wonderland (more Victorian in terms of time it was published) has theme that are much more defiant of the strictures of normal Victorian Literature, just like Frankenstein feels estranged from the rest of English Romanticist works for its overall bleakness.
   Map of Chaos is absolutely stunning in scope, and it will not be a very well-loved, popular book because it is just so delightfully unorthodox, so richly entertaining, so confounding in its inscrutable paradoxes that it is even better than Map of Time with trying to transcend generic genre boundaries altogether. It involves discussions of science, metaphysics; all these smaller, fragmented meta-narratives are  tied together with some smaller penny dreadful style stories (there is a really clever one in the beginning, featuring a great discussion on the ironical nature of werewolves), and then further fused with some  large, saga-ish Jules Vernes or H.G. Wells elements.
It is not your typical Steampunk novel with boring, dull automaton wars, thoughtless exaggerated Dickensian personas, etc. This novel riffs those elements to tell a much larger story, a critique so-to-say on whether there are novels that can be stretched beyond time and commonplace genre definitions. Why do we have genre, does a story have to contain a proposed point? I mean, it oddly becomes an existential meditation on why we even have stories to begin with. And this deeper, underlying layer of the novel is slight and subtle, and it appears alongside some very entertaining Dickensenian vignettes that would appeal to fans of the great work Gormenghast (one of my personal favorites) and other eccentric English works, without a genre, like Alice in Wonderland (fantasy, but also serving as political satire).
You could probably read this novel first, but I kinda feel like I missed out on a greater overarching theme by reading the first novel Map of Time first, before reading this ingenious, whimsical last entry in the series first. My biggest complaint is that there are times, when the story slogs, becomes lost in its grandiosity, and even becomes near unreadable. You really have to remain steadfast and patient with this book because it is so multi-layered, so far-reaching/daunting with its scope. I recommend this to more patient readers, who are not looking for something either fast-paced, or generic, or genre-restricted. This is a novel like Gormenghast that will try your patience, feel sometimes very wasteful, or overwritten with its clever verbiage, but in actuality, it will reward the patient reader with some very deep revelations about the creative, philosophical limits of genre, and the nature of storytelling, and oddly, existence itself.
Recommended for fans of eccentric, intelligent  fantasy literature/steampunk novels.
LITERARY TEA RECOMMENDATION:
Teavana's Pumpkin Spice Brulee Oolong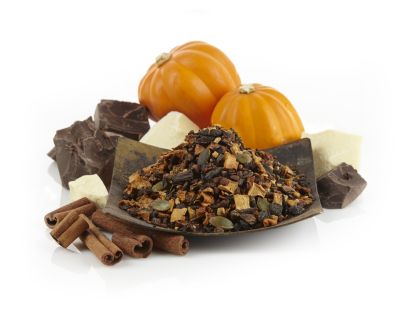 Description of the Blend (Taken from the Product Detail Page):
A bountiful harvest of sweetness and spice, this warming oolong is an impeccable accompaniment to crisp autumn days. A balanced swirl of rich pumpkin and flavors of caramel, toffee, butterscotch, and creamy vanilla, this rich and smooth cup is a sublime indulgence for the body and mind any time of day.

Richly sweet and creamy white and dark chocolate meets sweet pumpkin and toffee flavors, an undertone of sweet spice and mocha
First off, it's not my preferred brand or blend of choice. If you know me, you may know I sorta have this strong prejudice against Teavana tea going on, mainly due to unpleasant stories heard about their aggressive sales tactics utilized in their physical stories (way to ruin tea, for those of us who are more introverted by nature). I don't cope too well with that type of exceedingly extroverted methodology of sales tactics.
Prejudices aside, I ordered this blend from the Teavana site, and was pleasantly surprised upon sampling at how homey, warm, and even soothing this Oolong blend was. It was actually both flavorful, and it even held this nourishing undertone of toffee and mocha, which I couldn't help but love. I tried so hard to find something off-putting about this blend, but I seriously couldn't, even with the knowledge that Teavana teas contain artificial flavoring.
Even if it is out-of-season, it provides your tea sensibilities with some sensory glimpses of Autumn. Best of all, it has a very particular pumpkin oolong flavor that really dominates the tea that I feel, for some strange reason, effectively caused it to be the tea I felt was the most apt blend to pair with the novel Map of Chaos. When you are on a whirlwind of flitting through different frames of stories, or trying to unpack all the metaphysical goodness that is contained in this otherworldly novel,  an out-of season tea, like a fall blend in the summer is very much suited to being paired with this book, as anything unorthodox like a steampunk novel like Map of Chaos is practically begging for an equally unconventional blend of tea to bizarrely complement it.
If any tea can cause me to put aside my prejudices, and even still be a very great blend, even when drunk in the summertime, this makes it a masterful, perfect blend for any novel that also has trouble really fitting anywhere in the scheme of genre. In terms of genre, Map of Time has an assortment of different elements, just as much as this odd, though addictive blend of  tea –Teavana's Pumpkin Spice Brulee Oolong-has a bevy of different spices and flavorings that defy standardized recipes for  tea blend concoctions. If you get too hung up on artificial flavoring and aggressive in-store sale tactics, you might miss out on a truly great tea blend.