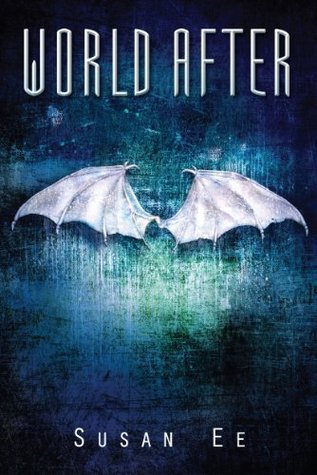 Amazon/Barnes & Nobles/Goodreads
Review written by: Jessica C.
World After starts where Angelfall with Penryn and the rest struggling to survive in the aftermath of the destruction of the Aerie. Penryn, Paige, and their mother join up with a group focused and determined to survive. However, when Paige is viewed as no more than a monster by these same individuals, the situation results in an all out bloodbath and Paige being captured.
Once again Penryn is off on a new mission to find and rescue her sister. The only difference is that this time she is for the most part on her own. Without Raffe by her side, Penryn finds herself haunted by her constant desire to look up at the sky to search for him, and the flashbacks that his angel sword brings to Penryn in order to train her to become a sword wielding warrior.
Penryn's mission leads her to discover the new plans of the angels. Mainly that of Belial and Uriel as the reason for the scorpions creation is revealed. As for Raffe, it seems undeniable that Penryn and his path would cross once more as he is determined to recover his wings. Yet the reunion with Penryn leaves both in question of whether forbidden affection can be surpassed. It is undeniable that both care for each other, however Raffe lives in struggle with the old ways and the rules that angels shall not love the Daughters of Man.
With forbidden love, adventure, and the corrupted determination of Belial and Uriel to seemingly unleash hell on earth, the reader is left to question what possibly can happen next. All I can say, dear readers, without ruining the book for you, is hope. In the end all that remains is hope.
Once more Susan Ee has managed to write a captivating tale of the world after the end of days. Each character is engaging and captivating. You cannot help but root for Raffe and Penryn to succeed. I eagerly await the next chapter in the End of Days, and I hope you do too. Until next time dear readers, happy reading!