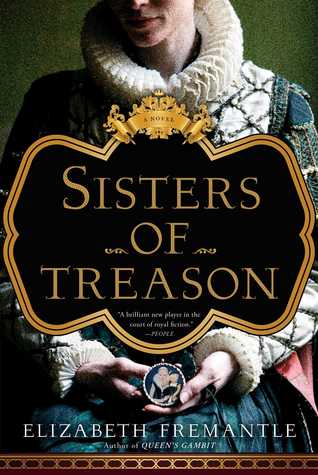 Giveaway: Win a copy of Elizabeth Fremantle's Sisters of Treason, by accessing the Rafflecopter app, by clicking the cover image above for the book!! Remember, winners are chosen randomly, and the contest is only open to those living in the USA! Thanks!
Amazon/Barnes & Nobles/Books-A-Million/Goodreads
And,be sure to also check out my review of the book, as well!!

Interview with Elizabeth Fremantle;  Author of Sisters of Treason & Queen's Gambit
1.Bibliophile's Reverie:.As formidable of a historical figure Mary Tudor was, you still managed to grant her character a lot of depth, and while many of her actions seem inexplicable and grisly to modern readers, you still give some precision of character development to make her actions, given the incessant demands she had put upon her to birth an heir, very fathomable? I think her character can easily be disparaged or diminished, if we only focus on the more controversial actions, during her role. How do you find a balance  for any historical figure, and not just Mary Tudor, between not overemphasizing either too many of there negative or positive attributes? 
Elizabeth: Some figures, like Mary and Elizabeth Tudor and Henry VIII, come with a vast baggage of preconceptions and it's always important for me to try and start with a blank slate as much as that is possible. When I begin to build such a character I am led by my narrators. Particularly when writing in the first person, as I do with the Grey girls, it is important to convey a convincing view of the court and the people in it through their eyes. They are both very young at the start of the novel and naive, so their vision is limited. I tried to convey through Mary Grey a sense of shock and surprise as she begins to understand what is happening as events unfold – in a sense her narration is one of innocence that develops into knowledge. Katherine, however, is shown as someone who would rather not know the truth, so she has a very fixed idea of how people are and as her attention is so often turned on herself she is blithely led into situations over which she has no control and falls prey to circumstance.  It is the narration of Levina that offers a more mature and distant view point on both queens which is a way to give depth to their characterisation. I seek to create a nuanced and human depiction of very well known figures; however wicked their acts seem to the modern reader, I always try to understand what it is that has caused such behaviour, after all bad actions are not committed in a vacuum and they need to be seen in the context of their times, yet resonate with the moderns reader. This can be something of a balancing act and requires a building of context within the world of the novel. I am endlessly fascinated in the way people in power behave and what they have to do to hang on to their power.
2. Bibliophile's Reverie:Many of the events and characters in your story are things sometimes overshadowed, by larger events and personalities. In Sisters of Treason, we really get an intimate portrait of lesser known people like Lady Mary Grey, Levina (the portrait painter and observer of events in the story). When you're doing the research for your story, do you see this potential for much more in-depth portraits of these characters? Is it an instinctive decision to choose these characters, and how they'll fit with some story you wish to tell?
Elizabeth: I'm interested in telling the stories at the margins of history and in particular the forgotten stories of women. I suppose it is instinctive; I will read something about an individual, sometimes little more than an anecdote, and I find I am drawn to discover more. For me the small stories are a way to frame the larger history.  Levina Teerlinc endures only through the very few examples of her work that still exist and a few facts about her life, which gave me the opportunity to give a voice to a woman with a remarkable life who was virtually lost to history. Women like Katherine and Mary Grey had well documented lives but have been largely been forgotten because the Stuarts won out in the battle for the Tudor succession. They were however key players in that struggle, even if they had little agency in their own destinies and for me they provide a fascinating lens through which to explore a more familiar historical narrative.
3.Bibliophile's Reverie: Now, Queen Elizabeth is a character that has a surplus of films and books about her. Rather than just ask 'why do people find her so interesting?' Was it difficult to really shape your own perception of Queen Elizabeth, a version that is different in many ways to the wide array of Queen Elizabeth themed films and books?
Elizabeth: She is a truly fascinating woman and versions of her have crowded out our cultural production but I had to forget all those Elizabeths in order to create my own. My three Tudor novels have given me the opportunity to explore her as a figure from childhood to grave, (we see her as a girl in Queen's Gambit and as a young queen in Sisters of Treason, the third book charts the final years of her reign) but from an oblique angle as she is not the protagonist of any of the books. Part of my project with these novels has been to explore this unique period of English history in which there were females in charge for half a century. I wanted to get beneath the skin of Mary and Elizabeth and explore their human motives for their styles of queenship and try to understand how they held onto their power in a culture that saw women as beneath men. Elizabeth is particularly interesting to people, I think, because throughout her life she refused to behave in the way that was expected of a woman, in that she didn't marry and produce an heir. She had extraordinary courage and resilience and is remembered as one of England's great monarchs but there is an enigma about her that is endlessly fascinating. The fact of her gender rubbed up against the fact of her position as monarch making for a problematic cultural shifts that have not often been addressed in historical fiction.
4.Bibliophile's Reverie Many people immensely enjoy historical fiction, but yet the research concept can be very, very daunting, for any writer. What is your technique, when it comes to researching and really discerning stuff that would prove essential for a novel you're writing? Is it really a more challenging genre to write, or is any genre difficult, in general, to write?
Elizabeth: For me it is the genre that gave me my voice. I had written three contemporary novels with little success and it was only when I embarked on historical fiction that my writing really fell into place, so in that sense, for me, it was easier. It is true that it takes a vast amount of research but that is something I enjoy hugely. I try and read everything available about all the characters in my books, even the minor ones and also dig out contemporary documents, letters, household accounts, state papers, etiquette manuals and even recipe books to gain a rounded knowledge as well as reading widely the poetry and plays of the period and the work of social historians. Portraiture and architecture are a further source of inspiration. It is important for me to have as broad a knowledge as possible in order to build a convincing world. My writing thrives with the framework of a 'real' story around which to develop my characters.
5.Bibliophile's Reverie: Is there any other historical periods you'd love to write about?
Elizabeth:  I have in fact just signed a contract to write a further four novels set in the Stuart period. Though the Stuarts are less well-known than the Tudors I think they were a formative dynasty for English politics. The polarisation of religious factions in the aftermath of the Reformation really crystallised in the seventeenth century and the political upheavals that led to the civil war are fascinating. Times of turmoil offer opportunities for interesting stories to emerge, particularly those about women whose lives were thrown into upheaval by war. Of course I will once more return to the intimate stories of people, and women in particular, close to the seat of power, living out their lives and loves against this backdrop.
6.Bibliophile's Reverie: What is your favorite historical fiction novel & movie?
Elizabeth: I'm a huge admirer of Hilary Mantel and her Bring up the Bodies is a wonderful novel that is both literary and tightly-plotted like a thriller. She is like a magician in he way she conjures a past that is so real you can almost smell it. There is a French film from 1994 directed by Patrice Chereau about the Bartholomew Day massacre called La Reine Margot, which is an adaptation of and Alexandre Dumas novel. It is a phenomenal and unforgettable film that allows us to see the precarious position royalty held in sixteenth century Europe.
Thanks again Elizabeth Fremantle for being willing to answer these questions for the many fans of historical fiction, who are devoted readers of my blog!
I'll definitely be reading and reviewing your other book, Queen's Gambit, at a future time!!