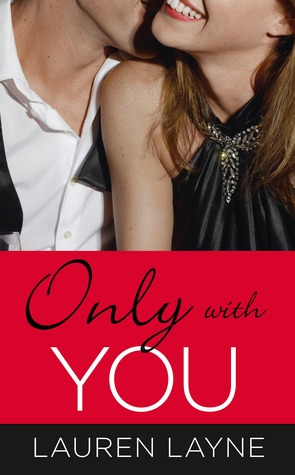 Amazon/Barnes & Nobles/Books-A-Million/Goodreads
Available July 29, 2014
Series: The Best Mistake (Book 1)
Mass Market Paperback: 368 pages
Publisher: Forever (July 29, 2014)
Language: English
ISBN-10: 1455546070
ISBN-13: 978-1455546077
Reviewed by Paula Tupper   July 9, 2014
Summertime is perfect for light, frivolous books you can stuff into a canvas bag and read at the beach, or in line for the roller coaster, or on that long bus ride to the wine country.  You don't expect much from these books, except maybe a good story and a little escapism.  That said, the bar is not set especially high when I pick up one of my beach reads.  This book, Only With You by Lauren Layne, should have filled the bill nicely.  How could it miss with a young lovely heroine with two degrees from Stanford, and a brooding, emotionally wounded CEO who dance around their possible relationship, exchanging witty repartee before giving in to love and happy ever after? Alas.
We will now slip into my alter identity, that of crusty and curmudgeonly ancient crone.  I really tried to like this book.  I tried to refashion my mindset to a place where these characters made me smile and cheer and root for their happiness.  I tried to say "You go, girl!!", "You're on track!" "Don't let them hold you back with their silly grownup expectations," (I know, how embarrassing.  Even your mother doesn't say "You go, girl!" anymore. So I'm old.  And I'm being curmudgeonly, so I am allowed.)
Lauren Layne has talent as an author.  Her stories flow, her dialog moves rapidly, the reader does not find herself trapped in a morass of bad writing.  That said, this particular book had me wanting to fling it at the wall, or vandalize every known copy so that its insidious demeaning presumptions never poison the mind of even ONE female reader.  The  story opens with Sophie dressing for a bachelorette party in Vegas.  The theme of the party is flashy trash so she is wearing a skirt less than a bandaid, a top that bares much of her torso, and thigh high vinyl hooker boots.  Her long blonde hair (of course) is teased out, and she has on false eyelashes that glitter. She gets trapped in a stalled elevator with gorgeous and distant Gray, CEO of a luxury hotel concern.  He thinks she is a hooker.  Well, DUH!  She is dressed like one.  On purpose.  What SHOULD he think?  But no, Sophie is offended.  So offended that she quits her job as a waitress in a dive bar the next day, without any backup plan.  Back in Seattle, she heads to her horrible uptight parents' house for Sunday dinner.  Why are they awful?  Because her doctor father who has paid for not one but two degrees from Stanford that Sophie is not using, plus a year and a half of law school that Sophie dropped out of,  is disappointed that she is failing to use her potential, opting for the aforesaid dive bar career instead. Oh, and he is more interested in the Mariners than golf.  Her mother is shallow and nouveau riche crass, always pushing for marriage and success for Sophie.  She picks on Sophie for not being like her perfect sister Brynn the orthodontist. How does she pick on her?  By pointing out when she is late, or that she is wearing torn jeans rather than dressing up a little for dinner.  Oh the horror.
Brynn is bringing a new boyfriend to dinner.  Oh what a surprise!  It's the dude from the elevator in Vegas!  Who would have guessed?  Squashed together in the powder room, they figure out Sophie is not a hooker, and he realizes he is attracted to her, not her sister.  Over a strained dinner, Sophie reveals she has quit her job without another in sight, and Gray needs a personal assistant.  He offers her the job, without knowing anything about her skills or talents.  Of course he does.  That's how successful CEOs operate all the time, right?  From that point on, Sophie sashays her way through his company, proving invaluable in making coffee with cream and saving big acquisition deals with her breasts, while heating up her boss as well.  It is ludicrous.
The set- up is insulting.  If any real couple found themselves in this situation it would never play out this way.  We are expected to believe being mistaken for a whore in her whore outfit causes Sophie such distress she immediately quits her waitress job, as if there is some feasible connection between them.  We are expected to understand Sophie's disappointment in how she perceives she is treated by her parents, her sister, and her lover, lacking in respect, when she acts like an idiot, not a 27 year old woman with an impressive college education.  In fact, nothing in the book ever makes you believe that Sophie could have ever finished the type of curriculum we are told she excelled at.
Women in general are treated as objects.  Constantly throughout we are given vignettes of Sophie focused solely on things of a sexual context: " Her lady parts purred" when her boss pours wine into a plastic cup.  Her "hellish yoga helped to keep her backside from wobbling."  Gray is upset about an upcoming business meeting because "Watching Alistair sniff after his assistant's tight little ass like a randy dog would be more than he could handle."  He thinks about dinner conversation with his siblings as running "My secretary? Yeah, I mistakenly implied she humped for money and she now spends every hour of the day pushing my buttons."  His sister is pimped out to the same Alistair during a bowling outing to help encourage the hotel acquisition.  I could go on, with another nine or ten examples I bookmarked, but it is just too depressing.
Sophie's expectations are inane.  She is offended because she is mistaken for a hooker, she is offended because her huge contribution to Gray's business as his coffee toting, picnic arranging, taxidermied head removing assistant is undervalued. She is offended because her parents don't invite her to play tennis with them anymore.  She is a petulant pain in the butt. Sophie triumphs by helping Gray defrost after his betrayal by a former fiancée freezes his emotions. She breaks free from her oppressive family's expectations by realizing the one thing she really wants is marriage, love, a home and kids.  What?  Where did that come from?  She hated her mother for pushing marriage all the time.  She never so much as blinks at a child in this book.  The one chance she might have had, with the son of Gray's friends, is thrown out because the boy is asleep when she meets them.  Yet we are expected to believe that the solution to Sophie's life crisis is marriage to Gray and yet another degree, this time in Teaching.  Between the clear ethical abuses involved in Gray's sexual relationship with an employee way down the corporate chain whose superior he is, to the ridiculous inflation of Sophie's importance in her job, to the nonsense she spouts and the bizarre solutions to all the conflicts, everything in this book annoys me.  I am all in favor of some willing suspension of disbelief for a Cinderella story, but this is no sweet fairy tale.  The next book in the series will be Brynn's story.  I won't be reading it.  And I won't let anyone I care about read these, either.  All the wrong questions and all the wrong answers for anyone looking for a lifeplan, even a fictitious one.
In accordance with FTC guidelines for bloggers and endorsements, I would like to clarify that the books reviewed by me are either purchased/borrowed by me, or provided by the publisher/author free of charge. I am neither compensated for my reviews nor are my opinions influenced in any way by the avenues in which I obtain my materials.  I received this book for free from Netgalley in exchange for my honest review.